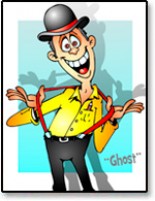 I am ghost – Wouter Hefzel de Witt from Nelspruit, Mpumalanga, a full-time freelance illustrator and caricature artist.
My freelance career started many years ago, after I decided that working for a boss (at a printing work) and wasting my God given talent just won't do.
The chalkboards at various restaurants kept mealive until I learnt to do caricatures, from books and from inspiration by many of the Cartoonists on this site. From that I did Caricatures for the "who's who" supplement in our local newspaper – the Lowvelder.
I have illustrated many children's books for Macmillan Publishers, Vivlia Publishers, Bateleur Books, Lingua Franca Publishers and a couple of books for local authors. I also do graphic design (logos, labels, T-shirt designs etc.) and murals!
Hope to hear from you soon!