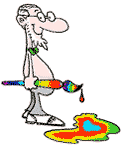 Born in Tibet in 1827, Myke Ashley Cooper spent his life learning to draw and cartoon.
Unfortunately there were no computers in those days so he decided at the age of 103 to end it all and reincarnated in 1941.
He went on to produce www.boovietoons.com, www.sexyfunnypics.com and other sites apart from running www.cartoonist.co.za for many South African professional and amateur cartoonists until his passing in 2013.
These sites receive about 15 000 visitors daily and have over 22 000 subscriptions to his cartoon lists but that doesn't make much money as most of these people are also poor.
He cartooned regularly for South Africa's top investigative monthly magazine, Noseweek. He specialised in pun and cliché single panel gag cartoons and caricatures as well as gif animations and photographically manipulated images.
Myke ran this site as a service to the industry. His daughters Michaela and Francesca have taken over maintenance of the site.