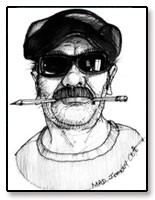 Born in 1955 in the North East of England in Newcastle-upon-Tyne, John Cope has gradually worked his way south – Firstly to Leeds, then London, onto Johannesburg and finally to the Republic of Bettys Bay in the Overberg.
When the North Westerly winds start to make an appearance in winter, he normally pops across to the North of England for a month or two to drink beer with his old mates.
Despite his age, John is relatively new to the world of illustration and cartoons. However, art and creativity runs throught the Cope clan and John has sketched and scribbled his way through life since being a few years old. After completing an Art Foundation course at Jacob Kramer Art College in Leeds, he went onto study for a BA (Hons) degree in Three-Dimensional Design, with Interior Design as a specialization at what is now known as Leeds Metropolitan University. He cut his teeth in retail and exhibition design in London before embarking on the great trek to Johannesburg where he worked for an international architectural and design practice specialising in shopping centre development, retail and hotel design. After a stint with another international design group, John started a design practice along with two other partners. Many years (and partners) later he sold his shares to do his own 'thing' and this is how it remains today. John's old passion for sketching, painting and photography have re-surfaced in recent years and gives his life a bit of balance away from the hectic world of commercial retail and hospitality design.
John is an avid news-watcher and daily reader of the newspapers and the South African landscape never fails to give him inspiration for expressing his 'point of view' through his cartoons and illustrations.