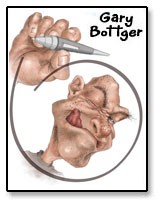 Gary illustrates in pencil and renders his artwork digitally with a unique and stylized crisp edge to his work.
His main focus and strength is in character development which is often extended toward animation, comic and cartoon strip creation. 3D illustration & animation, storyboarding and caricature design add to his wide range of abilities.
Gary also does live drawing for corporate presentations and in-house training sessions which creates a more powerful and memorable message compared to the traditional slideshow.
With over 15 years experience in the advertising industry as a graphic designer, art director and now owner of his own agency, Gary has illustrated and animated for local blue chip clients including Bidvest, Sasfin Bank, Steers, Clover, Investment Solutions, Alexander Forbes, Southern Sun, SAA, Deloitte as well as international clients in the USA, United Kingdom and Nigeria.
A passion for illustration and strong work ethic reinforce Gary as a competitive force in his field.