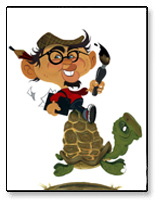 Martinus van Tee is a South African illustrator and animator.
Born in Johannesburg, Martinus attended the National school of Arts in Braamfontein. He moved to the Western Cape in 2011, and works as freelance illustrator and caricature artist.
His work is inspired by folk music, blues songs, and the people and landscapes of the Western Cape. Creamy gouache on watercolour paper is his medium of choice.
When he finds time, he creates short animated musical shorts. His most recent cartoon, Best Bud Blues(inspired by his pet pooch) was screened at various international animation festivals.